School Management App
Get the best-in-class mobile app experience to digitize your school. Bring the next level of technology, design, and feature-rich school app suite and help your school go truly digital!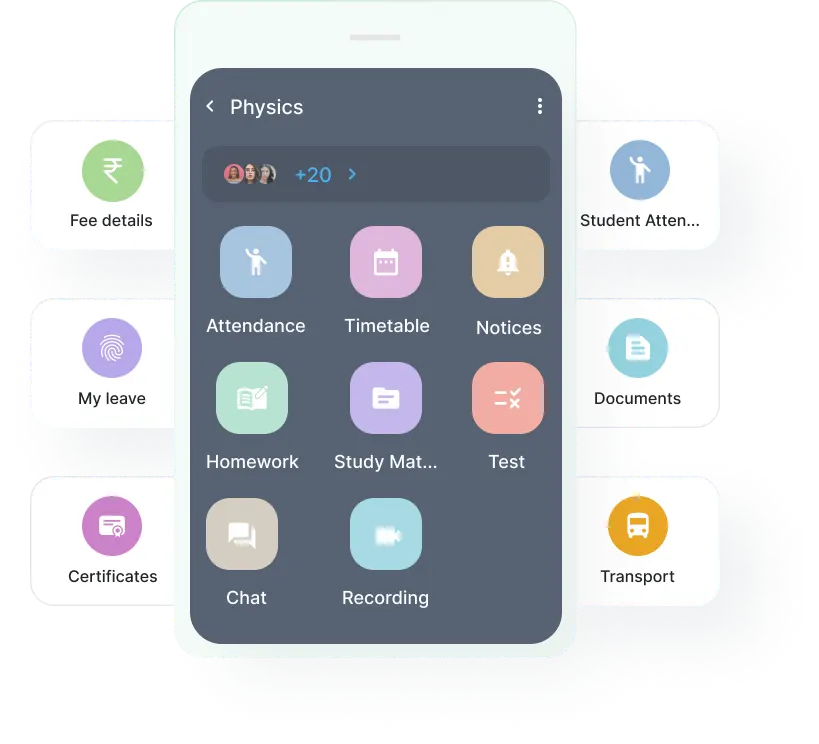 Overview
Admin App
Keep a tab on all activities with the admin app. Monitor attendance, track student performance, and manage fees conveniently with the app. Improve the quality of education with insightful reports and analytics.
Teacher App
Create a go-to place for teachers to update important communication, schedules and resources. Help them access the classroom and student information backed up with insightful data and analytics with Teachmint School Management App.
Student App
Allow students to stay connected with teachers through the Chat feature. Help them access classroom recordings, homework, study materials, and test with Teachmint School App.
Benefits
1
Connected Ecosystem
Stay connected with all stakeholders–students, parents, and teachers with the school management app. Improve parental engagement in the learning journey of your students. Keep parents engaged and informed to form a close-knit community. Allow teachers to record classroom actions and learning resources along with providing them with a hassle-free online teaching experience.
2
Real-time information access
Send information and updates in real-time with push notifications. Help all stakeholders stay updated with the latest school activities. Assist them in tracking attendance, viewing classroom schedules, connecting with teachers through chats, paying school fees conveniently, and knowing the real-time location of school buses with GPS tracking.
3
Flexibility
Offer flexibility to teachers with the school mobile app and help them access their teaching schedules on the go. Help them get classroom and student information, including the option to mark attendance, communicate with students through chats and notice boards, create timetables for classrooms, and plan the lessons precisely. Teachers can also create homework and tests within minutes, track students' performance, and share study materials anytime, anywhere.
4
Better decision making
Admins can get access to information related to school activities through the Admin app. They get a detailed view of all the modules which helps them keep track of ongoing tasks. Keeping a tab on all activities helps them make quick and better decisions.
The school management app makes the task of managing ongoing activities easier for all stakeholders. Admins can keep a bird's eye view of all activities, parents can stay on top of all updates, students can access study materials, homework, prepare for tests, and teachers can help their students learn anytime, anywhere.
FAQs
Can both parents use the Teachmint App for Schools?
Do we need to download separate apps for students, teachers, and other stakeholders to start using Teachmint School App?
Do we get auto-updates for any new features coming in Teachmint School App?
How Teachmint Mobile App for Schools is different from the other apps in the market?
Can parents connect with teachers in real-time with the school apps?