Library Management
Get started with Teachmint and digitize library management. Maintaining catalogs was never this easy!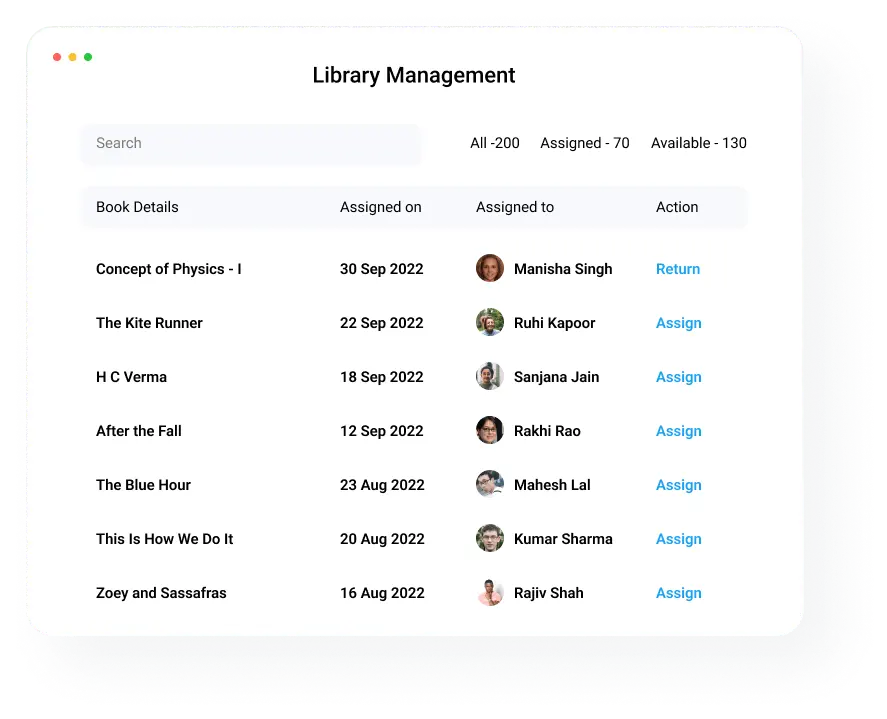 Overview
Easy Book Listings
Manage book listings easily by making a few entries. Make bulk entries or enter the name of the books individually.
Book Issue/Return Management
Find out which student or educator has been assigned what book. Easily manage all book-related data through a single platform.
Track Book Availability
Find the number of available and assigned books by looking at the dashboard. Get real-time information on the total book counts in the library.
Benefits
1
Better Management of Course Material
Rather than manually keeping a track of all the course material, including reports, books, papers, etc, the library management system would help the admins keep a record of all the materials digitally. They can easily add the books to the records using bulk entries.
2
Save Time
Find the books that you are looking for in a jiffy and avoid long queues within the library. Eliminate manual data entry and simplify the tasks by managing all book-related queries through the library management module by Teachmint.
3
Manage Library Functions
With Teachmint, manage library functions effortlessly. Keep a record of the number of books in the library at any given point in time.
4
Enhance Efficiency
Ensure efficiency with Teachmint. Keep track of books through a single platform. Search for books using the author's name or ISBN number.
A library plays a pivotal role in any institute. With the help of the right books, students can expand their knowledge and learn new skills. However, managing the requests of every student and teacher becomes cumbersome for librarians. With Teachmint, admins can make the task easier for librarians. Institutes can use the library management system to create a list of books available in the library. In addition to this, the system also gives insights into which book has been assigned to which student. Having efficient library management is critical for institutes. This helps to eliminate redundant tasks and save time. The library management solution by Teachmint easily helps to manage the piles of books and records the book names using authors' names and ISBN numbers.
FAQs
What are library management systems?
What are the features of library management systems?
How can the library management software by Teachmint help institutes?
How can librarians maintain a book list using Teachmint?
How will librarians know which books are available?