School ERP Management
Streamline administrative tasks, enhance communication, and manage school operations with ease.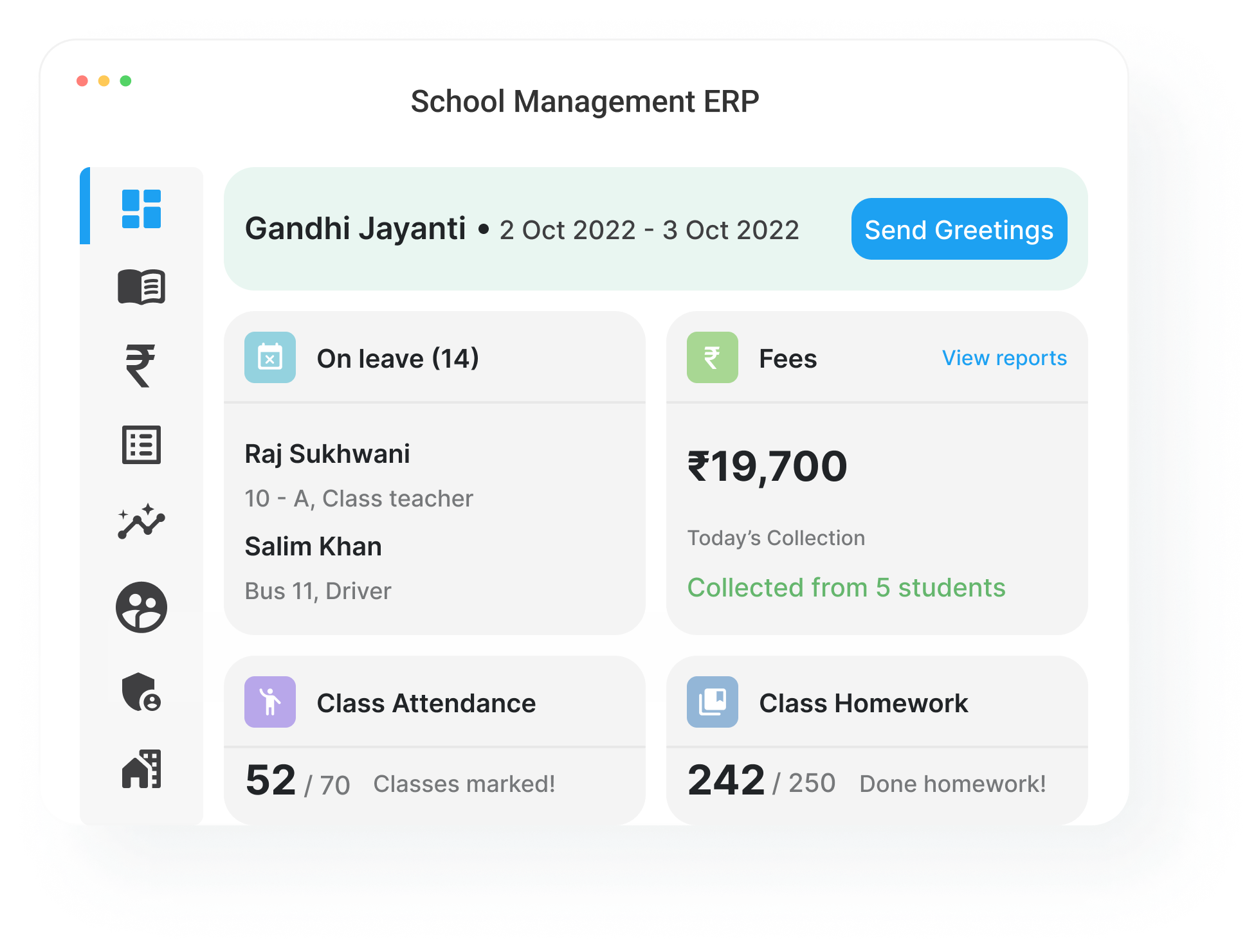 Overview
Fee Management
Simplify the collection, tracking, and management of student fees. Customize this process while issuing personalized reports on the go.
Attendance Management
Automate and manage student attendance online & offline with biometric devices and send alerts to parents on a student's day off.
Admission Management
From application to enrollment, simplify the student admission process, both offline and online, while maintaining extensive records of leads at different stages.
Transport Management
Ensure safe and reliable student commutes by optimizing school transportation logistics. You can plan out routes, manage staff, and track the location through GPS integration in your buses.
Human Resource Management
Effectively manage staff data, payroll, and attendance, through biometric and geofence to promote a well-organized workforce.
Inventory Management
Keep control over school supplies and resources, ensuring availability when needed.
Communication Module
Send out announcements, conduct relevant polls, schedule email blasts, and conduct surveys with ease.
ID Card Generator
Create custom identification cards for students and staff to aid security and access control.
Certificate Generator
Generate academic certificates and awards, recognizing student and staff achievements. You can customize existing templates or create one from scratch.
Exam Management
Streamline exam scheduling, grading, and results management to reduce administrative burdens. Customize report card templates to enhance parental involvement.
Website Builder
Develop and maintain a custom school website to provide information and updates to your school community with ease.
Academic Calendar Planner
Ensure a well-structured academic calendar by planning the entire year in advance, including weekly offs, holidays, school events, timetable, exams, and other activities.
Benefits
1
Efficient Administrative Operations
Reduce the administrative burden on school staff. Automate tasks like student admissions, fee collection, and attendance tracking to make processes faster and more efficient. This automation not only saves time but also minimizes the potential for human errors.
2
Improve Communication
Teachmint's School ERP is a centralized platform for schools to communicate with students, parents, and staff. Announcements, important dates, and school news can be easily broadcasted to parents, students and staff members, ensuring that everyone is well-informed. Teachers can directly communicate with parents about a student's progress or concerns, creating a more collaborative and transparent learning environment.
3
Enhance Data Accuracy & Generate Quick Reports
Maintain centralized databases for student and staff information, ensuring that data is consistent and up-to-date across all school functions. Any changes made are immediately reflected in all relevant modules, ensuring that records are accurate and reliable. This also makes generating reports a straightforward task, as the ERP system compiles data from various sources automatically, reducing the risk of errors associated with manual data entry.
4
Streamline Finance Management
Make financial management more manageable with access to features for fee collection, expense tracking, budget management, and financial forecasting. Administrators can easily track revenue, allocate funds, and even ensure compliance with financial regulations.
5
Higher Parent Engagement & Satisfaction
Enhance parent involvement by providing easy access to information, reducing communication gaps, and improving overall school services. Happy parents often lead to positive word-of-mouth, benefiting the school's reputation.
Unlock the Potential of Your School with The Teachmint School ERP Management Software
In today's fast-paced educational landscape, efficiency, transparency, and precision are paramount. That's where the Teachmint School ERP Management Software steps in to revolutionize your institution. With this powerful tool at your disposal, you can streamline your school's administrative processes, enhance communication, and improve overall performance.


Our ERP system automates tedious tasks like admissions, fee management, attendance tracking, etc reducing manual effort and minimizing errors. Communication between schools, parents, and teachers becomes seamless, keeping everyone well-informed. The centralized database ensures data accuracy and simplifies reporting, while robust security features protect sensitive information.


Administrators benefit from resource optimization, comprehensive reporting, and streamlined financial management. Our software saves time and costs, supports compliance, and boosts parent satisfaction, all while offering scalability for future growth.


Invest in our School ERP Management Software and empower your institution with the tools to excel in today's educational landscape. Transform your school into an efficient, transparent, and data-driven hub of learning.
FAQs
What are the main elements of a school ERP system?
What are the factors to consider when choosing an ERP system?
Can ERP improve student performance?
How does ERP for schools help teachers?
How customizable is Teachmint's school ERP system?
How does ERP for Schools provide visibility to administrators?
What are the benefits of using School ERP software?
What are the different modules included in ERP for school software?
How can School Enterprise Resource Planning software improve school efficiency?
What advantages do students and parents gain from the school's ERP system?