Fee Management Software
Make school fee management effective, efficient, and easy with Teachmint's Fee Management Software. Automate and simplify the entire edifice of the fee management process.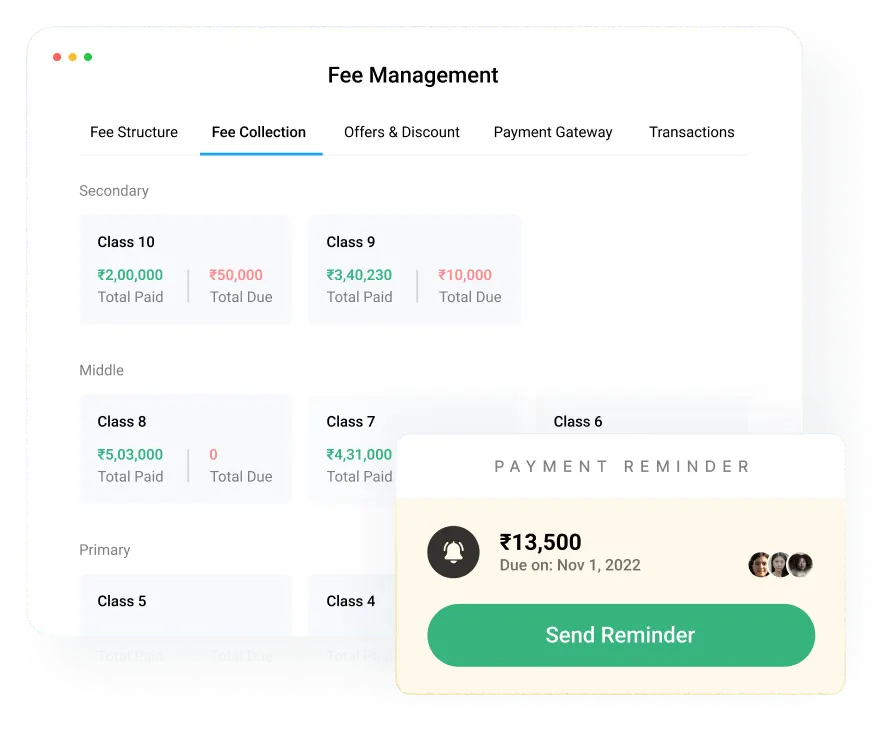 Overview
Easy Categorization
Categorize students into separate groups to monitor their fee collection separately
Customized Fee Reports
Create custom fee reports tailor-made for your institution
Timely Reminders
Send and receive timely reminders regarding the next fee installment, absence of payment, the due date, etc.
Benefits
Teachmint is the best fee management software solution out there in the market today and has several features that make it convenient for use among all the different stakeholders of the institution. Some of these are mentioned below -
1
Saves Time
The best thing about the use of software in place of direct human involvement is that the process inherently becomes automated. The main advantage of this is that the time required for the operation is reduced drastically. Fee management is an arduous task involving a lot of variables. Having software in place to take care of it makes it simpler and more efficient.
2
Cost Effective
One of the biggest factors affecting the effective cost of something is the amount of effort that needs to be put into making it viable, whether it is the products that result from them or the process of making them itself. In this case, the process in question is the fee management system. The more sophisticated the fee management software is, the more efficient the overall process is going to be due to the resulting automation and so the process will be cost-effective by virtue of the fact that the number of staff involved in the operation will be significantly reduced.
3
Minimizes Errors
With lesser and lesser human involvement becoming the norm through automation, the human element of error in the process is practically zero. This is what makes fee management software so important - it reduces the error involved and ultimately benefits the school monetarily.
4
Helps with Easy Categorization
There are different fee categories available to students on the basis of gender, religion, caste, and so on. Keeping tabs on each category, assigning different fee structures to students belonging to those categories, and maintaining records of each student becomes several times easier because of the fee management software solution.
5
Provides Timely Reminders
Sometimes parents can be distracted by their everyday tasks and work and may forget to pay their ward's fees. This is where Teachmint can help. The Fee Management software has a simple solution for this - send reminders. The reminders will be sent at a fixed date and time as desired by the school management to ensure due payment of fees on time.
6
Offers Installment Options for All Students Independently
Along with fee structures and fee categories comes the prospect of fee installment options. The capacity of one student to pay fees will not always be the same as other options. This can be resolved by assigning different fee installment options for students according to their capacity to pay. Keeping track of different sets of data and organizing it accordingly can be quite difficult, which is made substantially easier with the help of fee management software.
7
Creates Customized Fee Reports
The fee report or fee receipt is a document representing the successful transaction of money made by the student to the school as part of their fees. The fee report is an important document for a lot of parents because they can avail reimbursements on the same, so it is important that it looks official and can be easily traced back to the school that issued it. Teachmint offers schools the option to make their own custom fee receipt, complete with the school's logo and branding.
Fee management is a complex process involving a lot of variables and managing all of them can be quite a labor-intensive process. Teachmint helps schools take such complex nuanced tasks and makes them easily digestible and helps coordinate the activities effectively.
FAQs
What is a fee management system?
How can a school fee management system help institutions?
What are the features to look for when choosing a school fee management system?
What makes Teachmint's fee management system one of the best available?
How does Teachmint help all stakeholders with fee management?
How can schools benefit from a fee management system?
What benefits do parents get from fee management software?
Does a student fee management system make fee collection easy?
Why must schools use an online fee management system?