Attendance Management System
Make the process of attendance management simple, seamless, and transparent with Teachmint. Assess students effectively with detailed analytics and reports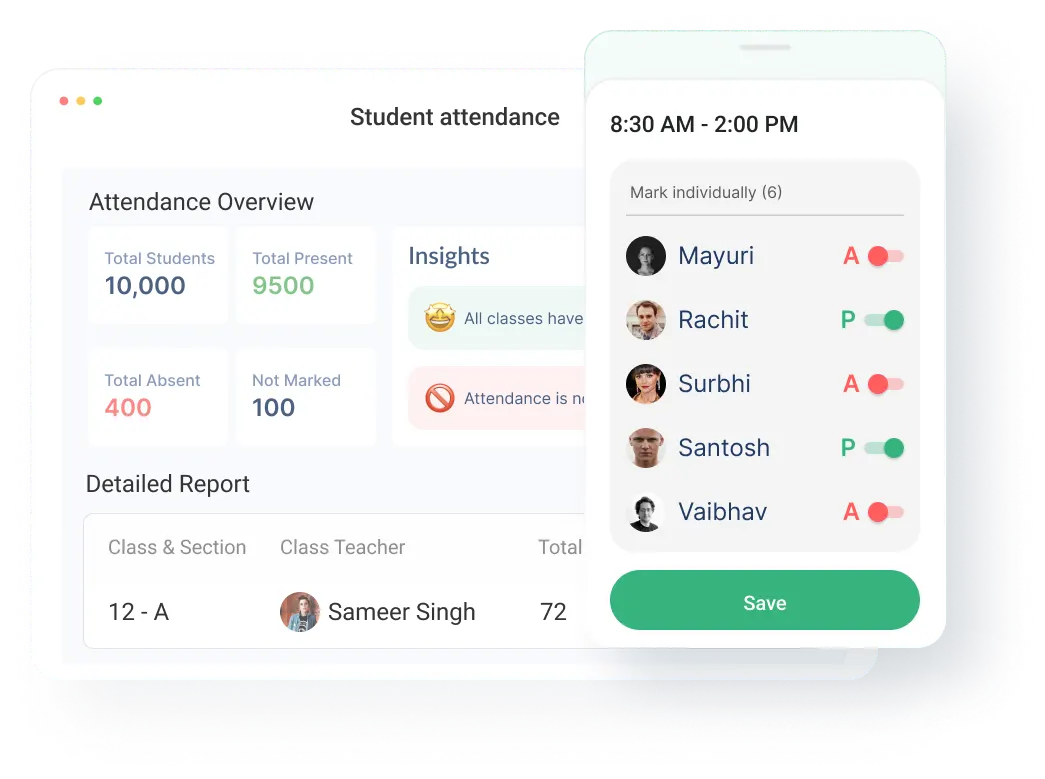 Overview
View/Download Attendance Reports On the Go
View/ download student attendance reports and reduce manual calculations for class teachers and school principals/ admins
Classroom Attendance Insights
Overview of the school attendance on a single dashboard with detailed reports for the all stakeholders involved
Digital Attendance Register
Keep track of attendance from anywhere with an online attendance registers
Benefits
1
Reduces Workload on Class Teachers
Class teachers are traditionally responsible for maintaining attendance for the class. This can now be easily done using the attendance tracking software of Teachmint online without many manual inputs from the class teacher - the entire process can be automated.
2
Greater Accountability for All Stakeholders
Since the student attendance will be easily available to all the stakeholders, i.e., the students, class teachers, subject teachers, parents, admins, and super admins, all of them will be up to date regarding the student's attendance, which will make them responsible for it in their own way.
3
Minimizes Calculation Errors
With minimal human involvement in the calculation of attendance, the errors will eventually go down to zero. In the event that there are errors, attendance can be updated easily and reports will be available as per new data.
4
Enables Slot-Wise Attendance Management
Some schools may have multiple shifts in a single day. Sometimes, schools may also decide to take class attendance multiple times in a dayo. In either case, Teachmint has got your back. Teachmint's Attendance management software offers three different time slots for recording attendance in a single day. This can be used in any way according to the school's requirements.
Attendance is a very important aspect of a school's smooth functioning, the mismanagement of which can lead to a series of events that can send the entire school system into chaos. Having an all-inclusive attendance management software solution in place can make the entire process simple to comprehend, follow, and execute leaving practically no room for errors. With schools scrambling to become NEP 2020 compliant as soon as possible, this is the perfect time to start using an Integrated School Platform - a platform where learning & teaching meets school management. Track your attendance and add it to your Report Card - step up your game and make your school NEP 2020 compliant today!
FAQs
What is the function of the attendance management system?
Who benefits from using an attendance management system?
Can teachers mark attendance if the students are not on Teachmint?
Can attendance be taken more than once a day?
How can class teachers rectify errors once the attendance has been taken?