Report Card
Create report cards with ease with Teachmint's Report Card Generation feature using a preset template - cut the effort and time put into the process manifold!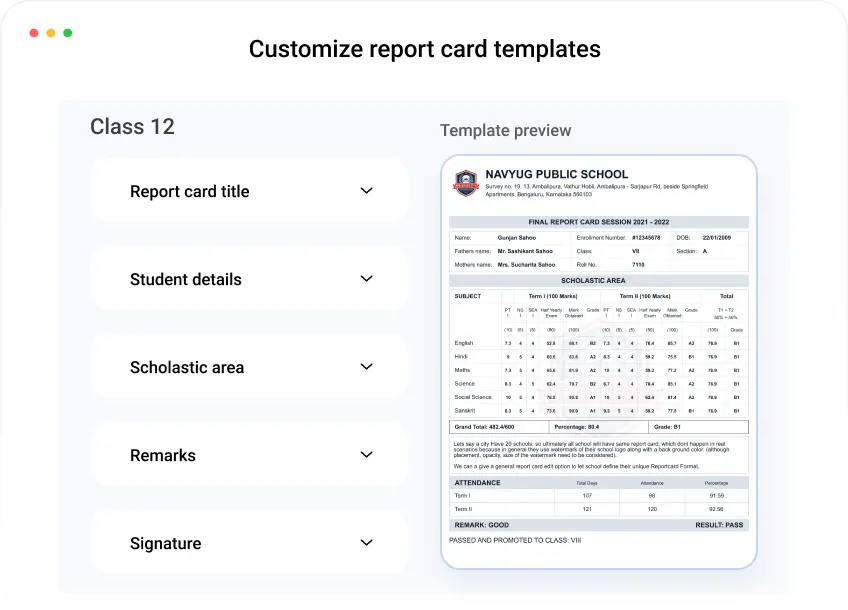 Overview
Readily Customizable
Make the report card fit the needs of the school in your own way with Teachmint
Automated Process
From the entering of marks into the report card on the basis of marks entered by the teachers to the generation of the printable report card itself, everything is automated by Teachmint.
Preview & Edit Instantly
Preview and edit the report card at short notice directly from the Teachmint platform
Benefits
1
Enables Absolute Flexibility
Everything from the title of the report card to the choice of whether teacher and parent signatures should be included or not can be customized with extreme accuracy with the Report Card Generation module.
2
Easy Exam Management
Teachmint helps admins set up the entire exam management process, from the creation of the exam right down to the addition of the marks obtained into the student report card and generating it all can be done with Teachmint.
3
Keeps All Stakeholders Informed
The students and parents will receive updates regarding the former's performance. Teachers and admins are also closely involved as the admins plan the exams and the teachers prepare the questions for the exams and review the exam planning process. So, all the stakeholders are in the loop regarding what is going on with exams.
4
Download All Report Cards at Once
Teachmint gives the option to download multiple report cards all at once. This is efficient and saves a lot of time that would otherwise be taken up by the teachers and admins manually downloading the data related to each student one by one. However, if they want to generate report cards individually, they can do so as well.
The Report card generator, along with the Exam Planner and School Yearly Calendar Planner, makes the process of exam creation, planning, and correction coordinated and seamless when executed in practice. When used in tandem with each other, exam management becomes simple and effortless.
FAQs
Can report cards be edited after they are published?
How many templates are available?
Which parts of the Report Card template are editable?
Can the finished report card be viewed for confirmation before downloading?
Can the status of the report card generation be checked?