Exam Planner
Plan and schedule your entire exam series from start to finish with Teachmint's elaborate Exam Planner!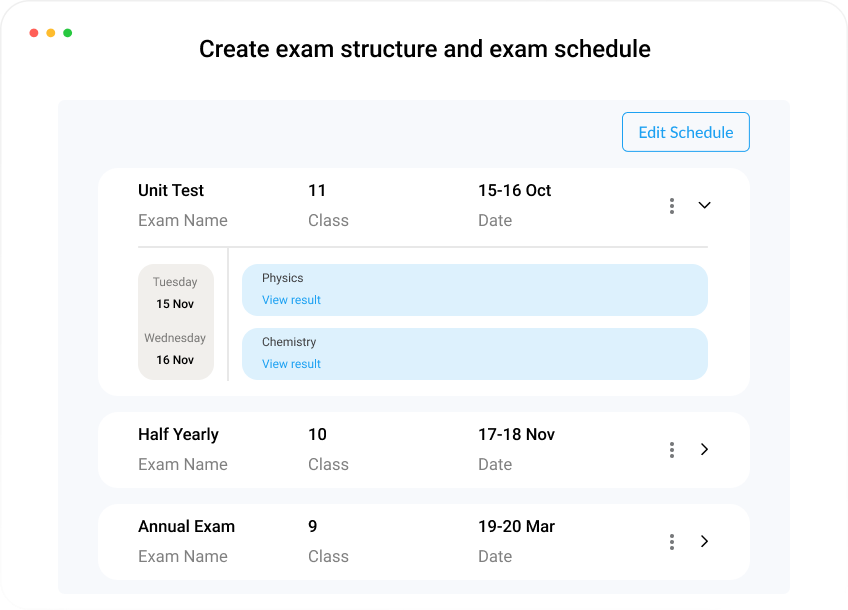 Overview
Schedule Your Exams With Ease
Schedule and plan the exams of each class to the date with little to no effort
View Results of Previous Exams
View the results of the exams that have already been conducted
Make Changes as Required
Make timely changes to the exam plan as and when required until the day of the exam
Benefits
1
Highly Customizable
Teachmint's Exam Planner feature allows school admins to make changes like the time and date of the exams as and when required by the stakeholders of the institution.
2
Automates the Process of Exam Planning
The exam planner helps school admins make scheduling exams for the entire school (or just certain classes) easier and more efficient.
3
Helps Schedule Exams at Any Time
The exam planner helps admins schedule and plan exams at any time without having to sit down and draft a detailed plan for the same from scratch.
4
View Results
Once the exam is over and the exam results have been published, teachers can view the class average, top scorers, and the marks of all the students who have attended the exam in the Exam Planner itself.
Planning exams is a detailed process and making sure everything goes according to plan is extremely important. This is not only so because of the ease of operation of the school but also because it makes sure that every student, teacher, and parent is on the same page regarding exam schedules. Therefore, having an exam study planner online is paramount, and is essential to the smooth functioning of any educational institution.
FAQs
Can edits be made to the exam schedule after it has been published?
How customizable is the Exam Planner?
How can Exam Planner be used to check the results?
What are the benefits of exam planner for teachers?
What is the use of having an exam planner online?